[ Instrument Network Instrument R & D ] China 's first 4500-meter deep-sea tracer in-situ fluorescence sensor engineering prototype was jointly developed by the research team of micro-analytical instruments led by Guan Yafeng, researcher of the Dalian Institute of Chemical Technology of the Chinese Academy of Sciences, and associate researcher Geng Xuhui. On the 18th, the sea trial was successful, and the Dalian Institute of Chemical Technology recently received the equipment participation certificate.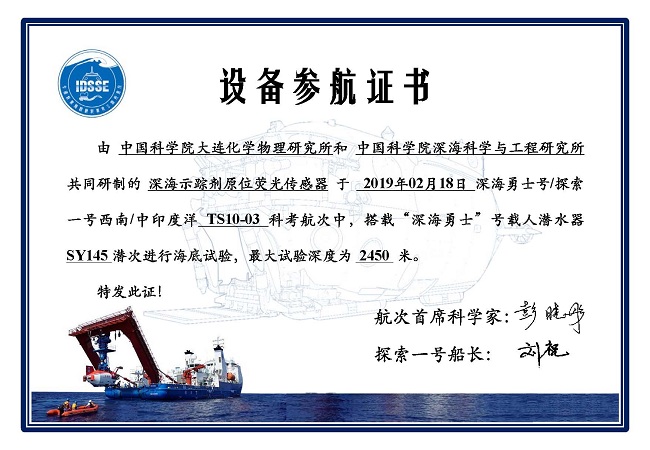 In the Deep Sea Warrior / Exploration One Southwest / Central Indian Ocean TS10-03 scientific research voyage, the engineering prototype was equipped with the "Deep Sea Warrior" manned submersible SY145 submarine submarine test for a maximum test depth of 2450 meters. This instrument is China's first fluorescence sensor for in-situ detection in the deep ocean. Its successful research and development will enhance the contour and distribution range of target flows in the deep ocean, including the ability to detect cold spring and hydrothermal plume diffusion. It has important science value.

Based on the years of academic accumulation of the Dalian Institute of Chemical Research's micro-analytical instrument research group in highly sensitive fluorescent detectors, the instrument has further improved the detection sensitivity, and the detection sensitivity is comparable to the international level. In addition, under deep sea conditions, the instrument faces extreme conditions such as high pressure (about 245 atmospheres), which places stringent requirements on the performance of the sensor. The team cooperated with the Deep Sea Institute of the Chinese Academy of Sciences. Through scientific design and repeated verification, the team successfully developed an in-situ fluorescence sensor that meets the extreme conditions of the deep sea.

This project is a sub-project of the Chinese Academy of Sciences' strategic Class A pilot project "Deep Ocean / Abyss Intelligent Technology and Undersea In-situ Scientific Experimental Station". Dalian Institute of Chemical Technology is responsible for the development of deep-sea in-situ organic component gas chromatography-mass spectrometry and fluorescence sensors. (Text / Photo by Geng Xuhui)
Adapter Sleeves are the most commonly used components for locating bearings with a tapered bore onto a cylindrical seat as they can be used on:
plain shafts
stepped shafts
They are easy to install and require no additional location on the shaft:
When used on plain shafts, the bearing can be located at any position on the shaft.
When used on stepped shafts together with an L-shaped spacer ring, the bearing can be accurately positioned axially, thereby facilitating bearing mounting and dismounting.

Adapter Sleeves
Adapter Sleeves,Bearting Adapter Sleeves,Adapter Sleeves For Inch Shafts,Metric Shaft Adapter
Ningbo Ritbearing Imp & Exp Co.,Ltd. , https://www.nbbearing.de