"The history of human development is also the history of a cutting tool." Chen Xiangming, a senior engineer at Zhuzhou Diamond Cutting Tool Co., Ltd. ("Zhuzhou Diamond") research and development center, said that from stone tools, bronze wares, and iron tools, to the era of modern industrialization In the human exploration of the world, the transformation of cutting tools has played a key role.
R&D personnel account for 10% of the company's total

"There are more than 500 parts in the iphone that can be processed by our company's cutting tools." Chen Xiangming explained that cutting tools in industrial production are like a set of choppers in the hands of Western chefs. "For different ingredients, the thickness of the kitchen knife is There is a difference in toughness, hardness and shape, and there are more types and requirements for cutting tools."
In the exhibition hall on the first floor of the company, various cutting tools are displayed. "Coated tool is currently the best cutting tool, which solves the contradiction between tool toughness and hardness." Chen Xiangming told reporters that the current domestic cutting tool is still 70% of traditional tools, and in foreign countries, 85% Cutting tools have been coated tools. This means that cutting tools in the domestic market are facing a new round of upgrading.
Chen Xiangming said that after innovation, "Zhuzhou Diamond" has improved the thickness and material of coated tools in foreign countries, and the produced coated cutters have better performance. "Foreign technologies are all core secrets. We must establish our own research system." According to Jinmo Tool Network, the company's annual research and development expenses are between 50 million and 60 million, and it has more than 200 professional R&D personnel. It accounts for 10% of the company's total number.
Over 20,000 designs break through foreign patent barriers

Relying on the emphasis on talents and scientific research, "Zhuzhou Diamond" has achieved rapid development since its establishment in 2002. It has now become a comprehensive cutting tool supplier and base that integrates R&D, production and sales, and is in the same industry in China. Steady leader.
"The development of cutting tools abroad is earlier than domestic ones, and it is very difficult to circumvent foreign patents." Chen Xiangming said that, for example, the cutters produced by foreign manufacturers have 11-degree angles, then in their patent applications, they will be 5 degrees to 17 degrees. All angles are included in the scope of protection. In order not to re-sample with existing foreign products, local products must be fundamentally different from them. In spite of the difficulties, the company has designed more than 20,000 types of cutting tools through constant innovation. In 2011, "Zhuzhou Diamond" was jointly awarded "Innovative Enterprise" by the Ministry of Science and Technology and the State-owned Assets Supervision and Administration Commission of the State Council.
In 2010, the National Key Project for Science and Technology "Precision Tool Innovation Platform" was established in this company. The project is based on precision cutting and automotive industries, and developed a series of special tools. Over the past few years, the product of the project has been successfully applied in many manufacturing companies, achieving a breakthrough in the production of precision and efficient tooling on the production line.
Hitachi nozzle are applied for Hitachi pick and place SMT machines, like Hitachi Sigma F8 Σ-F8 ,Hitachi Sigma G5, Hitachi Sigma G5s, Hitachi Σ-G5, Hitachi GXH-1S, Hitachi GXH-1, Hitachi GXH-3 SMT machine and so on.
The most commonly used Hitachi nozzle list:
HA01, HA04, HA05, HA09, HA10, HB03, HB04, FA04, FA05, FA06, FF01, FF02, HG31, HG51, HG52, HG81, HV01, HV02, HV03, HV31, HV51, HV81, HV81C, PA05, PV01, PV02, VC76, VF01, VF02, VG35, VG51, VG52, VT32, VT69, WG51, WG52, WT32, WT51 etc.
We also provide the HITACHI Nozzle customized service and other brand nozzles , like Panasonic Nozzle, Juki Nozzle , Samsung Nozzle, Yamaha Nozzle, FUJI Nozzle , Hitachi Nozzle, etc.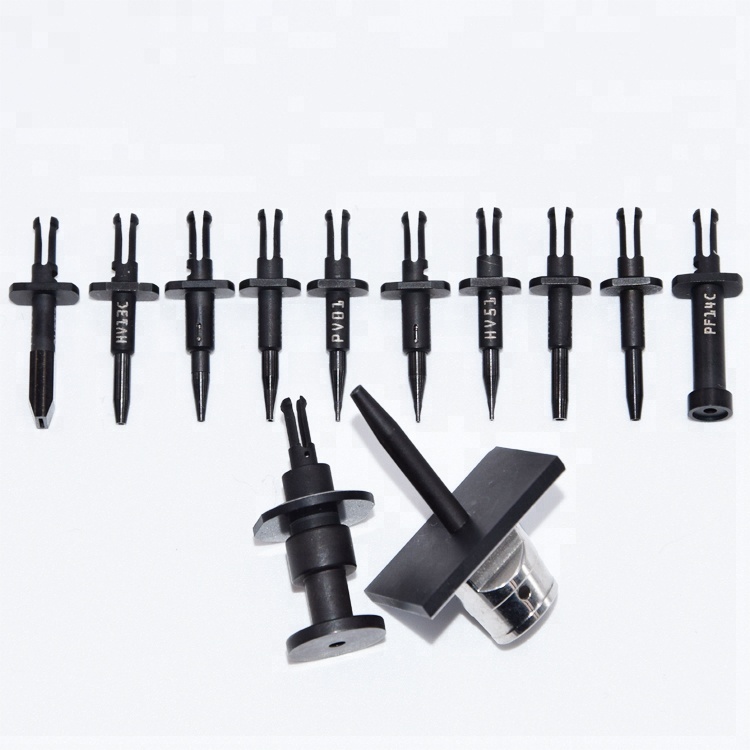 Hitachi Nozzle,Custom Hitachi Nozzle,Rubber Hitachi Nozzle,Anti-Static Hitachi Nozzle
ROC Precision Intelligent Technology Co., Ltd , https://www.electronic-smt.com