Manufacturing Principles:
Glue Tank Underneath
Overall Dimensions:
6600X1000X1600mm
Net Weight:
as Your Request
Transport Package:
Stretch Film with Wooden Case
Specification:
6600X1000X1600mm
Wood Edge Banding Machine for Cabinet and Kitchen Board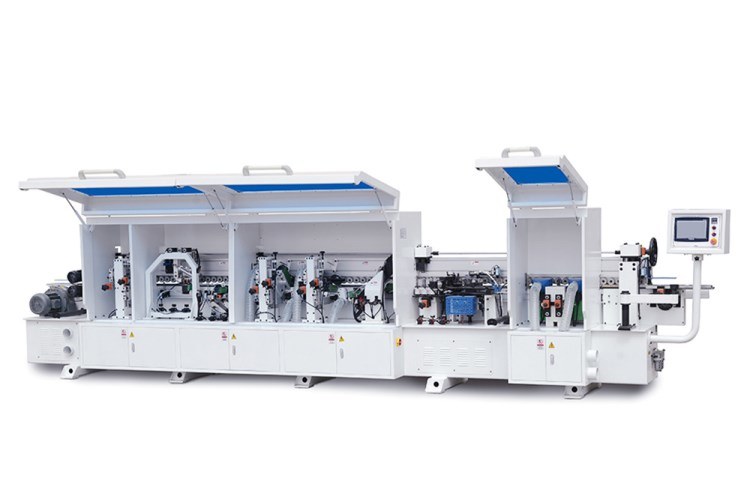 Application:
The machine is suitable for such plates: MDF, block board, solid wood board, particleboard, polymer door plates, plywood etc, straight line edging and trimming. Function: pre-milling,gluing,edge cutting,end trimming, rough trimming, fine rimming, corner trimming, scraping, buffing, slotting and so on. Edging smoothly and edging line is straight. The machine is stable, reliable and durable, with favorable price. It is especially suitable for large and medium-sized furniture manufacturers. 
 
Features : 
1.This edge bander is ideal for building an automatic production line. Stability and controlled ability are the most important factors for an equipment to be part of production line.
2.Pre-milling equipment with double trim-blades works on the waved effect that is caused by precise saw.
3.The glue mechanism adopts a special structure to gelatinize the plates and coating materials uniformly, ensure a more solid conglutination.
4.End-trimming mechanism through a precise guide track movement, adopt automatic tracking and high-frequency motor fast cutting structure to ensure the cutting surface smoothly.
5.Rough &Fine Trimming unit, with two individual high frequency motors, trim the exceeding edge on the top and bottom side of the panel, ensure the top and bottom side of the edge smooth and even.
6.Scraping unit for a perfect finishing of the applied edge.
7.The buffing device adopt the board processed by cotton polishing wheel, by end-polishing to make a more smooth surface.
8.Grooving is a optional function for edge banding machine. It's used to slot out one groove on panel to install glass, back panel etc.
 
Advantage:
1.Adopt domestic famous motor and high quality electrical components. 
2.The fuselage is firm and steady,thus increasing the stability of the whole machine.
3.Aluminum alloy beam is a relatively advanced method, its precision and straightness are far superior to cast iron.
4.Auto cleaning, high precision, high efficiency.
5.The machine can be customized.
6.Automatic and precise gluing procedure as well integrated double finishing side within one workflow .The end cutting can be done at the rear side of the machine.
7.Multiple Air cylinder will assembled on the machine, mainly used for positioned location assured the panel materials processing accuracy in a very high level.
8.Secondary Dust Exhaust System, mainly used for sawdust collection during processing period, to keep the material smooth and clean.
9.The machine adopts the devices of sound insulation, controlling of dust, platform frame Micro adjustment by manual operation.
 
Technical Parameter:
| | |
| --- | --- |
| Model | MFZ609 |
| Edge thickness | 0.4-3mm |
| Panel thickness | 10-60mm |
| Panel length | >=150mm |
| Panel width | >=60mm |
| Working Pressure | 0.6Mpa |
| Feed Speed | 12-20m/min |
| Electrical Lift | yes |
| Motor Power | 16.5kw |
| Overall dimensions | 6600X1000X1600mm |

Detailed Images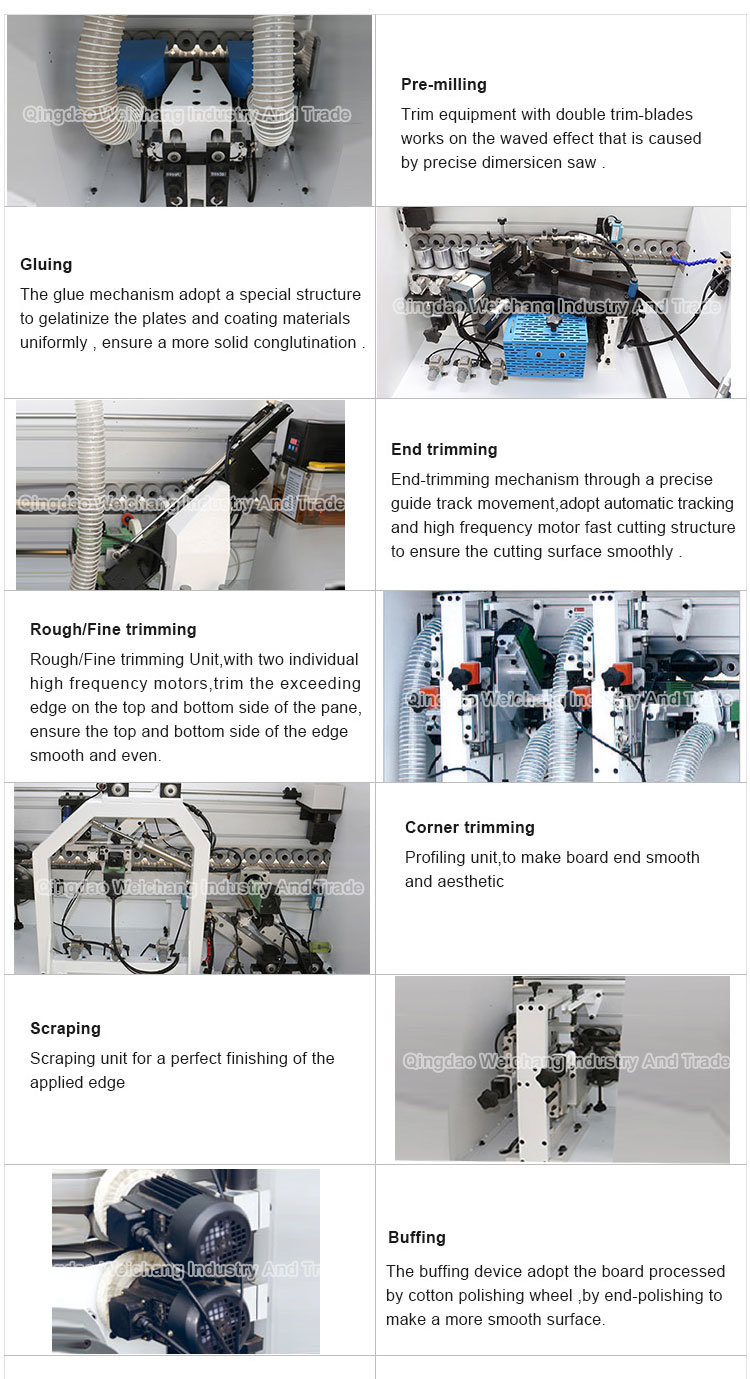 Finished Products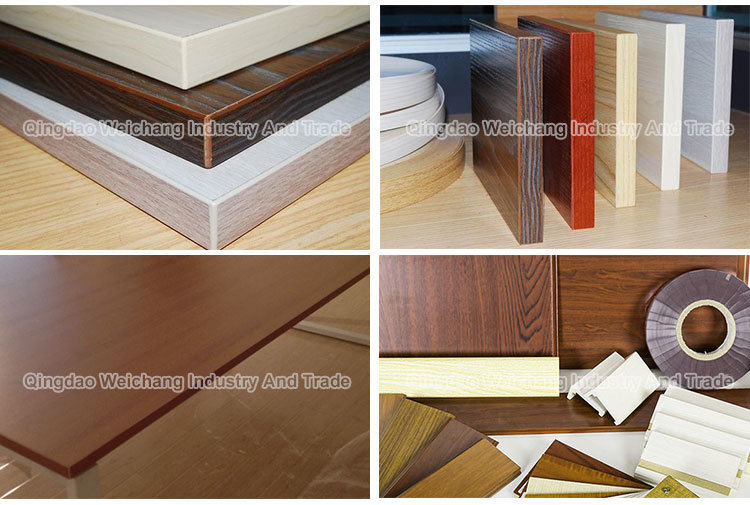 Packing & Service

 
1.Delivery:
We can guarantee delivery on time.
We also can sign on-time delivery contracts. If we can't deliver on time, we will give the product a corresponding discount.
2.Package:
We will take care of your machinery packages well like picture show.
Our workers will make sure your machine clean before package.
We will add stretchy film for the whole machine and spare parts for delicate protection.
We will make export standard strong Wooden box case package as your request. 
3.Guarantee:
The machine is guaranteed for 12 months .Within 12 months under normal using and maintenance, if the machine has something problem ,you will get spare part for free . More than 12 months,you will get the cost price for accessories. You will also get technical support and service all the time.
4.Technical support:
Technical support by Phone, Email, Wechat, WhatsApp and Skype, 24 hours online.
We provide English version manual and Operational video.
Engineer available to service machinery overseas.
5.After sales services:
Our machine is installed and tested well before delivery. You can operate the machine immediately after receiving machine.
If you don't know how to use the machine, we will offer you free training until you can use machine freely. And If there is still have any question, please contact us by Email, Skype, Wechat, WhatsApp, Phone and Trade Manager online service at any time.
 
Why Choose Us

 

 
Semi-solid Die Casting: Semi-Solid Die Casting Technology is the magnesium and aluminum light alloy materials are heated to high speed and high-pressure Injection Molding of semisolid metal. The product has high density, high strength, and high precision; shrinkage reducing alloy can bear higher pressure; semisolid slurry has no macrosegregation, casting alloy properties, forming time is short, mold consumption is small, and does not connect. Touch the air, no pollution. Compared with the traditional die-casting temperature 60~100 C, the melting damage is avoided, the porosity is 0.4 to 1.8, the porosity of the traditional die-casting is 2.5 ~ 3, the quality is improved, the mechanical properties are improved, the projection area is less than 800cm2, the thickness is more than 0.3mm, and the weight is less than 800g. Widely used in aerospace, automotive, communications, electronics and other industries, with "Lightweight, quality, efficiency, environmental protection, energy saving" requirements. Semisolid Die Casting is the main production process of our company, with about 100 people's design and development team to turn your ideas into products, 101 magnesium alloy semi-solid rheological die-casting, all imported magnesium alloy semi solid die casting machines, providing the largest, most advanced metal molding services.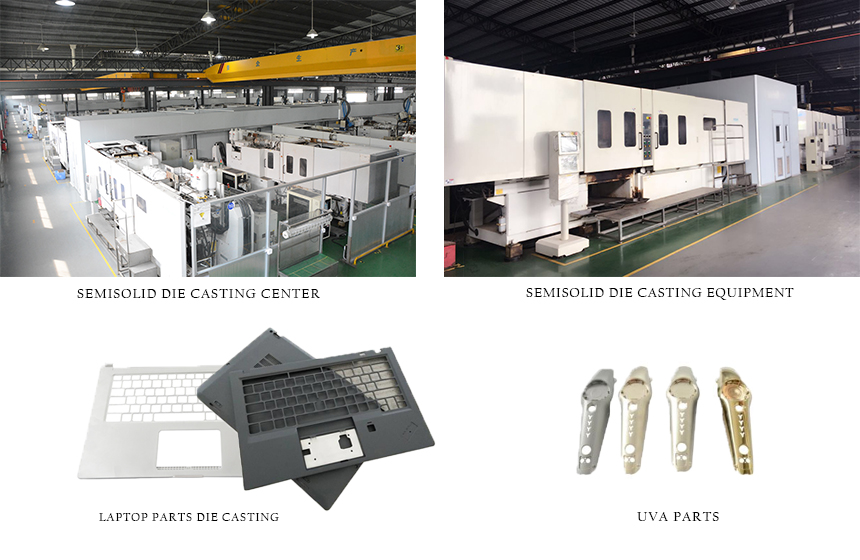 NOTE: All products are photographed in factories
just use as technology sample
Semisolid Die Casting
Semisolid Die Casting,Semi-Solid Die-Casting,Semi-Solid Die Casting Technology,Auto Die Casting Tool Mold
Dongguan City Ruizhun Precision Metal Co., Ltd , http://www.rzjmdiecasting.com